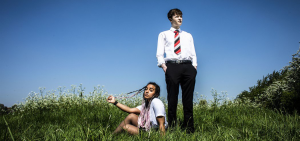 Songlines – 5 September 2018. Theatre Deli, Sheffield
I've seen Edinburgh Fringe shows at and before the festival before but not afterwards, so when I was offered tickets to see Songlines, straight after its trip to the Fringe and to mark the launch of the new season at Theatre Deli, Sheffield I could not say no.
Songlines introduces the audience to Stevie, who is 17 and is peak cool, or thinks she is. In the middle of the wide eyed stagger from girlhood to womanhood Stevie is sent to live in the middle of nowhere with her Grandma. Suffolk, the home of doggers, folklore and Stan. Stan is peak geek, not that he knows. There are secrets in the marshland, songs that will show Stevie the way.
A co-production between Hightide and DugOut, Songlines promised the audience a coming-of-age love story in all its awkward teen glory, interwoven with beautiful live folk music from TRILLS.
Fanta Barrie as Stevie and Joe Hurst as Stan both beautifully captured and brought to life their characters, both fishes out of water in their own ways, and their adolescent chemistry, both displaying great stage prescence especially when directly speaking to the audience. Proof that opposites attract, Joe brought to life know-it-all nerd Stan, and his unique dance moves, and Fanta the angry and hurt urban attitude and desire to be cool Stevie, who talks and sings straight from the heart, without the need from either of them for exaggerations and stereotypes.
On stage throughout, TRILLS, made up of Seraphina D'Arby and Tallulah Brown, combined beautiful, haunting harmonies and powerful and moving lyrics to create country-folk style numbers that complimented, captured, provided the background for and moved the story forward, and made them worth checking out whether as part of this performance or as a band in their own right.
The script, by TRILLS member Tallulah Brown, was not afraid to tackle painful issues through the eyes of teenagers whilst capturing the clumsiness and embarrassment of first times and first love.
Well written, well acted, well directed and with wonderful livc music, Songlines will appeal to anyone who has ever experienced the pain of being a teenagers, loves live music and ever wanted to belong. A show that is perfect for a small venue, I left the theatre completely understanding why Songlines was so successfully at the Edinburgh Fringe, and reminded me of the power music and self-love, though like Stevie I'm not going to start talking to my vagina.
You can catch Songlines at the Square Chapel Arts Centre, Halifax on Friday 7 September and at York Theatre Royal on Saturday 8 September.
HighTide is theatre company and charity based in East Anglia that has a eleven history of successfully launching the careers of emerging British playwrights. They aim to enable new and underrepresented playwrights to express their visions of contemporary politics and society, demonstrate their creative potential and therein showcase the future of theatre. For further information visit www.hightide.org.uk.
Founded by a group of comedians, writers, musicians and actors, DugOut create new work that is often funny, sometimes sad, usually hopeful and almost always musical. It aims to warm audience hearts, move their feet, treat their eyes, lighten their load, tickle their fancy and swell their hearts. Taking their joyful, popular plays around the country, they perform in a range of intimate spaces, from studio theatres to country pubs, and believe in bringing their unique brand of theatre magic to audiences everywhere. For further information on DugOut visit www.dugouttheatre.com.