SUPAS' Curtains – 27 April 2022, Sheffield University Drama Studio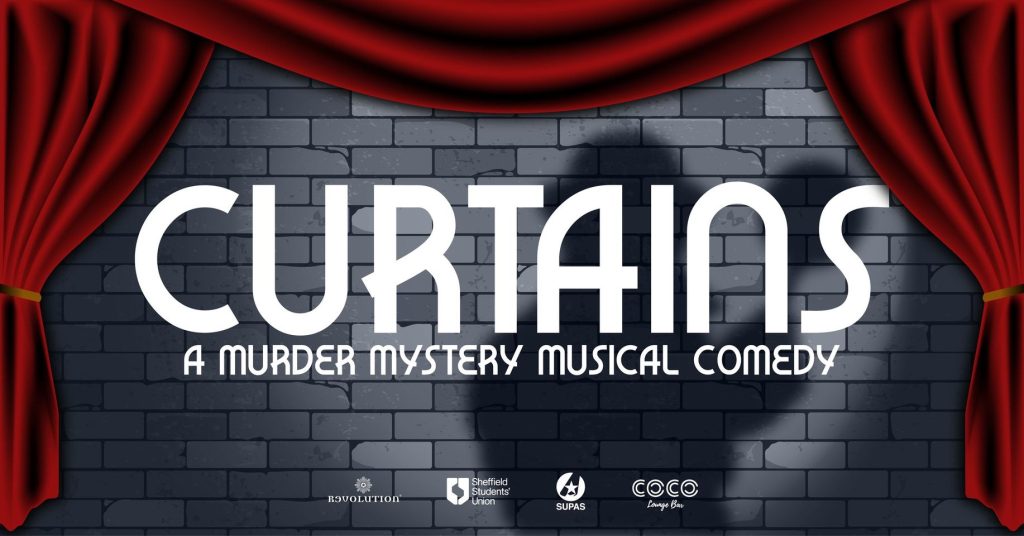 Review by Heather Reynolds.
"Curtains" returned to Sheffield this week with the most recent offering from SUPAS at the Drama Studio. I was delighted to be able to attend the opening performance, particularly after seeing it a few years ago when the UK tour came through the Lyceum. SUPAS' production reminded me of everything I loved about that production.
Nathan Sloane starred as Frank Cioffi, the theatre obsessed Lieutenant charged with the task of solving the murders haunting the cast of Boston's production of Robbin' Hood. His performance was reminiscent of Jason Manford in the latest UK tour, and his characterisation and vocals were a joy. Abby Fletcher made a perfect onstage match for Sloane as actress Niki Harris, giving a very sweet interpretation of the character, with a sweet voice to match.
Imogen Setters gave a strong performance as theatre producer and Stage Mum Carmen Bernstein, and the onstage mother-daughter dynamics between her and Jess Hamilton as the conscientious Bambi provided plenty of humour. Harry Reeves also gave a charming performance as Aaron Fox, gifting the audience with plenty of lovely vocal moments, with Charlotte Beeden and Anthony Bright ably completing the love triangle Aaron finds himself in as Georgia Hendricks and Bobby Pepper.
A stand-out part of the show for me was the onstage demise of stage manager Jenny, masterfully delivered by Phoebe McArthur in the role. Will Leggetter also gave a hilarious portrayal of flamboyant director Christopher Belling – his comic timing was excellent and proved to be an audience favourite.
This production was very much a team effort – from the onstage cast to the backstage crew and technicians, the production team to the orchestra. Each aspect pulled together to exemplify what can be created when "show people" come together to create and collaborate.