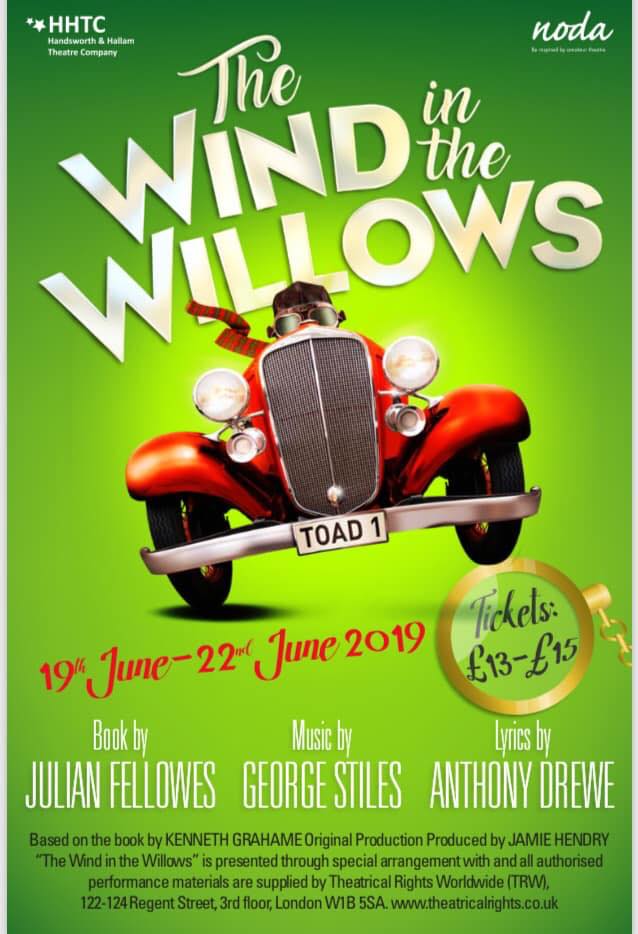 Wind in the Willows – 19 June 2019, Montgomery Theatre, Sheffield
***** As a fan of Kenneth Grahame's classic children's novel growing up and on the verge of becoming a mother myself, I was delighted to be in the audience for the Yorkshire premier of the Wind in the Willows musical.
The new musical, by Oscar-winning screenwriter and Downton Abbey creator, Julian Fellows with a British score by Olivier Award-winning composers and lyricists George Stiles and Anthony Drewe, promises to be a riotous comedy featuring Rat, Mole, Badger and Mr. Toad whose insatiable need for speed lands him in serious trouble. With his beloved home under threat from the notorious Chief Weasel and his gang of sinister Wild Wooders, Toad must attempt a daring escape leading to a series of misadventures and a heroic battle to recapture Toad Hall.
Continuing to confirm HHTC as one of the best companies for musical theatre in Sheffield, this was a faultless production packed full of superb voices, harmonies, choreography and acting from all, with the entire cast perfectly capturing the characteristics, personalities and attitudes of their individual characters and the bonds between them.
Confirming thoroughly that the company deserved to deliver the Yorkshire premier of the musical, with a standard that if the audience did not know differently could have been the West End production, the show provided
everything you want from a top quality musical whilst remaining delightfully loyal to Kenneth Grahame's original story and characters.
Although I cannot praise any of the cast enough for their outstanding performances, I must especially mention the main four performers who brought to life Rat, Mole, Badger and Mr Toad, with Steve Mather as Badger possessing all the quantities required for a West End star and reminding me heavily of actor Sir Derek Jacobi; Andrew Stansall as Toad who wonderfully combined the characteristics of every over the top television personality you can think of from Christopher Biggins to Timmy Mallet whilst remaining lovable; and not forgetting Richard Granger and Joseph Walker as Mole and Rat whose natural talent, friendship chemistry and professionalism shone through with so much abundance you forgot they were acting.
Confirming their characters right to be there, when in the wrong hands it might have felt just like an attempt to ram female characters in to a male dominated musical, I must also praise Danni Birks-Hibbert as Mrs Otter, who confirmed why we gave her the award for best female in a musical last year, and her on stage maternal bond with Portia played by Katie Mather, who from her musical opening opening of the show and joyful performance throughout proved she has a great musical theatre career ahead of her.
I will also take the time to mention Stuart Ogden as Chief Weasel and Andy Hibbert as Lesser Weasel, who off the back of their performances could play their choice of baddies in any stage or screen production they wish; and Louise Walker as the Gaoler's Daughter, who reminded me of Brookside and Hollyoaks actress Alexandra Fletcher and whose chemistry and transformation of Toad into a woman may mean that Matthew Walker has competition for HHTC's next pantomine (Goldilocks and the The Three Bears at the Montgomery Theatre from 23 to 26 January 2020).
Off stage I cannot praise Director and Choreographer Claire Harriott and Musical Director Ray Gallagher enough for bringing the show wonderfully to life and getting the very best out of all invovled; Wardrobe Manager Christine Minott whose multiple costumes added even more to the cast's bringing of their characters to life (special mention here for the spiky, car fearing Hedgehog Family and their costumes, including possibly the two youngest members of the cast); and the set and props team for bringing to life the lovable homes of Badger and Mole, and Rat and Toad's favourite means of transport.
The musical numbers were delightfully and beautifully well-written, performed and arranged throughout accompanied by a superb nine piece orchestra, and whilst Toad's regular "Poop Poops" will stay in my head vocally for a long time, my favourite musical numbers were the passion, strength and friendship packed "A Friend Is Still A Friend" performed by Steve, Richard and Joseph; and Richard's moving and sentimental solo "A Place to Come Back To".
In terms of individual scenes, I must highlight the courtroom scene that not only provided a great finale to the second act but also one of the best on-screen court scenes I have seen in a musical; and accompanied by the musical number "The Greatest Great Escape" the funniest, musical stage escape chase, by train, barge and motor car I have ever seen.
Without giving it away for those who haven't seen the musical, I must also mention the finale, where I highly recommend keeping an eye on the Weasel in the audience as he get's the perfect theatre punishment and don't leave before Toad's final appearance, reminiscence of Uncle Fester's own finale in The Addams Family Musical.
As a reviewer, I was shocked that this show was not sold out for its opening night as it is a truly outstanding performance that should not be missed by fans of the book and West End quality musicals everywhere.
Wind in the Willows will be on at the Montgomery Theatre, Sheffield at 7.15pm until Saturday 22 June, with an additional 2.15pm matinee on the Saturday. To book visit www.hhtcsheffield.co.uk/our-next-production or http://themontgomery.org.uk.
Formed in 2002 from the merger of Handsworth Amateur Operatic Society and Sheffield Hallam Operatic Society, HHTC aim to be the leading family amateur theatre group in Sheffield, providing good quality musical theatre by putting on two shows a year, a pantomime and a musical. For further information visit www.hhtcsheffield.co.uk.