Bready or Not – 28 September 2019, The Holt, Sheffield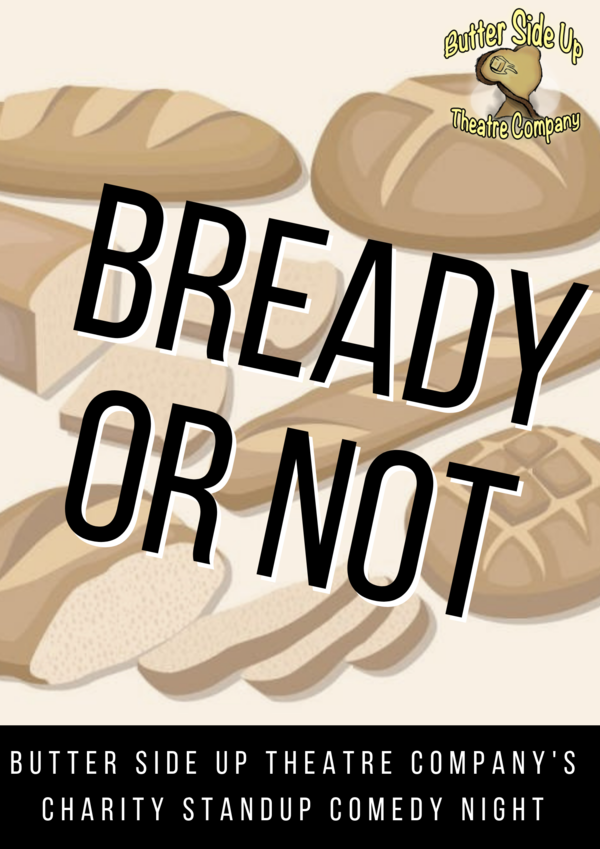 We have been big supporters of Butter Side Up Theatre Company from their very beginning, but have yet to attend one of their stand-up comedy nights, so what better place to start than to send our reviewer and LGBT advocate Artisan Friendly to their night raising money for local LGBT charity SAYiT Sheffield.
"I got the comfy armchair tonight. The one by the snug blankets and next to the huge glass terrarium. If you haven't yet visited The Holt – do, it's a real treat! A hidden gem, just off Sidney Street, right in the heart of Sheffield's expanding creative quarter. And…if you have a penchant for fairy lights, mini-mirrorballs and chilled out, interesting and thought provoking spaces, you'll be thrilled. Butter Side Up Theatre Company are donating 50% of tonight's proceeds for 'Bready or Not' to 'SAYiT', a charity which supports young LGBT people, aged 14-25 and, in return for a fiver, we get to enjoy eight superb comedians with fresh, witty, well-observed material.
Our MC for the night was Michael – he was fantastically upbeat and enthusiastic. Thank you, Michael, you were slick and totally there for the performers, providing warm introductions and encouraging support.
First up, was Hannah, a 'girl from the North-East', perplexed by her mother's addiction to the Lottery. Sometimes, we don't quite get our closest ones do we? Maybe all we need (as in the case of Hannah's mum on winning the Lottery) is 'a full tank of petrol'?
Libby took us to ALDI. It's that middle aisle which attracts. I also loved the awareness and reflection on low-cost plane travel – how we compromise and are taken advantage of, and, end up eating burgers that 'taste like flip-flops'.
Kate was worried about oversharing and her leopard skin trews. Think we loved both. As above, laughs were refracting off of the wrought iron girders in The Holt space, as observations about balancing 'sexy' with misogyny in The Bible were equally considered.
Bethan closed the first act by hilariously relaying the troubles of being Welsh and the effect that 'sheep jokes' have on daffodils and Tom Jones whilst warning that 'it's the cows we need to be wary of'. A big fan of Bake Off, a pertinent point was raised about there perhaps being a conspiracy this year. Bethan showcased some great material.
Opening the second act, Matt came across as relaxed and confident as he shared some hilarious anecdotes around 'awkwardness, autism and sex'. He gave us a great insight into the mating game whilst being to read any signs of intimacy. There was a real warmth and honesty to his spot which was cheeky and fun.
A fan of Strictly (me, too), Ella touched on the perils of dating apps ('I don't want a boyfriend I just want attention') and a Strictly highlight this year, the sight of 'Anneka Rice being dragged around the dancefloor like a corpse'.
Sian raised awareness of that little talked about cult – Slimming World. She called for all those who are being pulled into being 'sin-free', to EAT! Have a sausage sandwich, an orange!
Headlining the show, Lewis Coleman had us crying with laughter at his lad's holidays antics and dad advice. His material was mostly family oriented observation and felt very authentic and original. He jumped from one topic to another seamlessly and his set flowed brilliantly. The crowd absolutely loved him and rightfully so, he's an absolute star."
What was enjoyable about this evening is that people were taking chances, experimenting, having good times, very supportive of each other and linking in with socio-political resonances. There are so many topics and agendas out there regarding LGBT, regarding life in general and actually being able to have a good old laugh. Butterside Up are addressing, challenging and supporting much by doing what they have done this evening. They are bang on with their choices and need to be heard and more supported by our fantastic, Sheffield community.
Butter Side Up Theatre company is an amateur theatre group in Sheffield, specialising in original writing and collaborative works. It was set up as a group for those who wanted to enjoy theatre and performing in a fun and friendly setting. They welcome people of all levels of theatre experience, to get involved with writing, acting, directing, backstage, marketing and multimedia content, in a range of projects. Named after a running joke in Seussical the Musical, Butter Side Up is a fun but committed collection of people who want to create entertaining performances for the city of Sheffield. For further information visit www.buttersideuptheatre.com.
Butter Side Up Theatre Company's next event is an Emo Cabaret Night on Friday 11 October 2019 at The Holt, Sheffield, featuring classic songs from the 2000s. Tickets are £9. To book visit https://events.ticketsforgood.co.uk/events/1551-emo-cabaret-night.
Running in Sheffield since 2019, registered independent charity SAYiT (Sheena Amos Youth Trust) is a LGBT+ young people and sexual health/HIV charity with the core function to transform the lives of LGBT+ young people and young people affected by HIV, up to the age of 25 through supportive group work, youth action, education and influence. For further information visit https://sayit.org.uk.